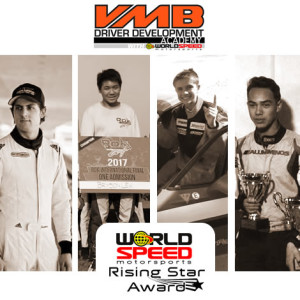 For over 20 years the World Speed Motorsports Rising Star Award has provided a test to young racers looking to move up the open-wheel racing ladder. Starting in the 2014 season, the Rising Star Award added a new component, a scholarship into a FormulaSPEED provided by VMB Driver Development.
It was announced today that four young racers have been awarded the 2017 World Speed Motorsports Rising Star Award, and one of them will be moving up into the GEN2 FormulaSPEED class of the Formula Car Challenge for 2018.
Introducing this year's nominees:
Rayce Dykstra – 14 Years Old – Karting / Spec Miata Champion
Bryson Lew – 14 Years Old – Karting Champion
Paul Jourdain – 21 Years Old – Karting /Formula PanAm/ NASCAR Mexico
Jason Pettit – 17 years old – Karting Champion
---
The Test Day:
Each of the selected drivers will be scored on driving ability, technical feedback, and communication with the WSM/VMB team members. Staff from World Speed Motorsports will discuss the merits of each driver, and provide a complete report on all drivers to VMB Driver Development. VMB will then select the scholarship winner to pilot the VMB Academy FormulaSPEED for the 2018 season. The driver testing will take place at Thunderhill Raceway Park in December. The racers will be tested on the track for their driving skills, and in the garage for their technical understanding of the sport and off-track business, marketing and PR skills.
---
Some of the past WSM Rising Star Award winners have included:
Scott Speed – F1, NASCAR, Global Rally Cross

Joey Hand – Ford and BMW Factory Driver, 24 Hours of Daytona & 12 Hour of Sebring winner

Sage Karam – Indy Lights Champion

Joel Miller – Team USA, Grand Am Rolex GX vice-champion, Mazda factory prototype driver

Cole Whitt-  NASCAR

Michael Self – NASCAR

Conor Daly – Pro Mazda Champion, Team USA, Indy Lights, GP3, IndyCar

Neil Alberico – Pro Mazda Championship vice-champion, Team USA, Indy Lights
For more information visit: