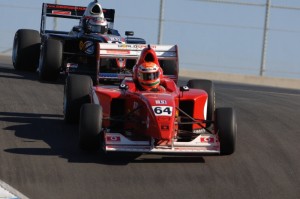 Qualifying for the Road Atlanta Star Series race was cut short due to thunder and lightning, but Ace Carrio was able to get in a time that put the World Speed Motorsports #14 Rockford Fosgate car in the 10th position. With better weather in the race Ace worked his way up into 5th position, and secured precious points in the Star Mazda Championship. Heading into the Star Mazda finale Ace and the WSM team have a 35 point lead in the championship. At Road Atlanta technical inspection the series requested Ace's engine. The team quickly removed the engine, gave it to the series, and began their 12 hour/3000 mile red-eye to race that same weekend at Laguna Seca!
Saturday Ace had one session to get accustomed with the newly paved Monterey California circuit before Sunday's Formula Atlantic qualifying. Ace started third in Sunday's race, turned the fastest lap of the weekend, and won the event. In the same race Patrick O'Neill claimed third place points clinching the SFR Region Formula Atlantic Championship for World Speed Motorsports.
The team is now preparing for the Star Mazda and Russell Pro Series Finales Oct 19th-21st.