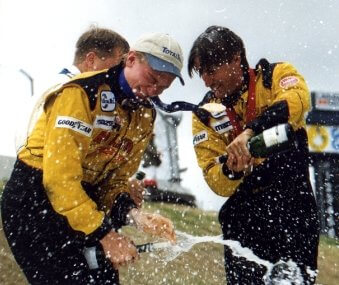 The World Speed Motorsports Team TotalTel pair of Jeff Bucknum and Mike Miller literally dusted the competition with a one-two finish in this weekend's final round of the 1998 Star Mazda Pro Series at Phoenix International Raceway, in the Arizona desert.
Bucknum, who dominated the Formula Mazda class at the SCCA National Run-offs last month, captured his first Star Mazda victory of the season, while teammate Miller clinched second in the series championship by virtue of his second-place showing in Saturday's 41-car field race.
"This weekend couldn't have gone any better," said Bucknum, who started from the pole in the #15 AIRPortland/TotalTel/Red Line Oil/World Speed entry. "We were quickest in every session from practice and qualifying and all the way through the race. The fact that the car was terrific from the very beginning is a true testament to Mike Doyle and the rest of the World Speed crew. We've gained a lot of momentum these past few months and look forward to keeping it going into next year."
Miller, in his first appearance on the Phoenix infield road course, continued his string of podium finishes after qualifying third.
"I'm very excited for Jeff," said Miller, of Rohnert Park, California. "He's been long overdue for a win this year and he was certainly the one to beat this weekend. After I got around Ian (Lacy), I tried to reel in Jeff. I might have been able to catch him, but getting around him would have been another story. This was his weekend. We struggled a little bit at the beginning of practice, but gradually got better and ended up with a great car for the race. Once again, the crew did a terrific job, and I'm glad that Jeff and I were able to cap-off the season with a one-two finish for World Speed."
Miller, in his second year of Star Mazda competition, ended the season second overall with four wins to his credit, while Bucknum finished third overall and second in the rookie points battle (to series winner Lacy). "We had a good shot at the championship this year," said Miller. "In fact, we were a lot stronger during the second half of the season. Jeff has been a great teammate and having Chuck West, Mike Doyle and the rest of the World Speed team on my side has been terrific. I also want to thank Dean and Laurie Barker for helping me so much these past several years."
Bucknum, son of Formula One, Indy car, Trans-Am and sports car legend Ronnie Bucknum, is a proven winner, pole-sitter and championship contender. His background includes the Barber Dodge Pro Series, the Skip Barber West Coast Formula Ford Championships, karting and various Atlantic and Indy Lights testing programs. He also serves as an instructor at the Derek Daly driving academy in Las Vegas, Nevada.
Miller's experience includes multiple karting titles as well as three years in the Skip Barber Southern Formula Ford series. In last year's Star Formula Mazda series, he finished third overall and won the Rookie-of-the-Year title. He was also selected as one of six finalists for the 1997 Valvoline Team USA Scholarship and was chosen to attend the Team KOOL Green Academy.