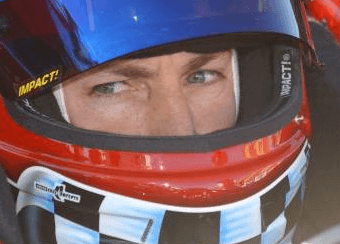 Palm Springs, Calif. (July 19, 1999) — Jeff Bucknum, driving for World Speed Motorsports, captured his second career Star Mazda Series – West victory and first for 1999 at Irwindale Speedway in Southern California this weekend.
"I feel like we're back where we belong," said Bucknum, who also serves as chief instructor for the Derek Daly Performance Driving Academy in Las Vegas. "We were fastest for most of the weekend and had a set-up that was perfect for the race. What's really ironic is that I've never driven on this track before, and we really didn't have any solid data. We basically rolled off the transporter and were within one-tenth of the fastest lap in the first session. The next session, we were three-tenths faster than anyone else, then ended up third overall in the final practice."
In an unusual race format, qualifying times were used to determine the starting grid for two separate heat races. Finishing positions in the heat races were then used to set the main race's grid. After setting the second fastest time in single-car qualifying, Bucknum started the second-group heat race from the pole. While Bucknum won his heat's 25-lap dash from flag-to-flag, he would start the main race from the second spot because the overall time of his group's heat race was longer than the first group's.
Group one's race-winner Tim Enoch would start from the pole. At the start of the main, Bucknum settled into second spot behind Enoch. As Enoch bobbled on lap three, Bucknum slipped past then held off Enoch, Brandon Peterson, Sara Senske, Joey Hand and Mike Potekhen to claim victory on the Irwindale ½-mile oval.
"Tim got the jump on the start," said Bucknum. "I tucked in behind him and noticed that his car was getting loose, so I just settled in and waited for the right opportunity. He made a slight bobble so I went inside of him, and never looked back. It was really a great victory for the team. We've been there all season, but just haven't had the right kind of luck. This win definitely puts us back in the championship hunt and we're pretty fired up going into Sears Point – a track that World Speed knows pretty well."
Bucknum currently is fourth in the Star Mazda Series West Division Championship after five of 12 rounds, and third in the Star Mazda Best Western Championship television series. Both series resume this Saturday, July 24 at Sears Point International Raceway in Sonoma, California.
Joining Bucknum in the World Speed Motorsports Star Mazda stable are series' first-timers Grant Ryley, Alex Figge and Pierre Ehret as well as returning veterans Bryan Willman, Frank McCormick, and Ginni Swanton.