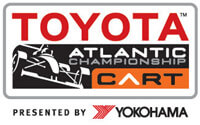 The World Speed Motorsports team finished off the 2000 CART Toyota Atlantic Championship season this morning in Houston, Texas, part of the Texaco/Havoline Grand Prix of Houston CART FedEx Championship weekend, where the rookie duo of Andy Lally and Akihiro Asai hoped to end the season on a brighter note, but unfortunately both Lally and Asai had to retire early from the 43-lap race.
Lally, who started 16th on the grid, moved up to the top ten in the first ten laps, positioning himself alongside Asai who was running 9th. "The first yellow flag appeared on the third lap, so on the re-start I was able to push and get myself into the top ten," said Lally.
While Lally was pushing to the front of the pack, Asai was running into problems. "I was behind Rocky Moran really pushing and I got a little loose. I clipped the tire wall in Turn Three, but at that point I didn't know that I lost my wing. I was black flagged and had to come in. I'm pretty disappointed. We had such a great weekend at Gateway a couple of weeks ago. I was hoping for similar results, but I guess that's racing," said Asai. Asai completed 17 laps and finished in the 18th position today, with a fast time of 1:09.449.
"This was my first time on the streets of Houston, so learning the track as soon as possible was key. I just made a mistake and went in too deep" said Asai, who first joined the World Speed team mid-season in Milwaukee. "Running in the Atlantic series has been a really great experience for me. This is a very competitive series. Starting from the middle of the season has been tough, especially with minimum testing."
With five laps remaining, Lally took advantage of the frequent yellow flags. On the last re-start Lally moved up to capture the 5th position. "I was so close and then we starting having electrical problems. I just pulled off to the side and that was the end of the race for me. I came into this race to try and improve my final finishing spot from Road America and build on what I've learned so far. I think I accomplished the fact that I've learned more about the car. I'm really feeling comfortable in an Atlantic car, it's just a shame that we had electrical problems because we would've been in the top five," said a disappointed Lally. "Chuck West and Rick Waddell (Northwest SpeedWerx) have been great in the fact that they had me in the car this weekend. I'm very grateful to them and to the guys."
Most recently, Lally has been splitting his seattime between three different series, in which he has been a top performer in each. Just a few weeks ago, Lally finished 3rd at Laguna Seca in the Barber Dodge Pro Series and is 7th overall in the point standings, excluding two missed races at the beginning of the season. Lally has also been successful in the other series he has competed in this season. A few months ago at Mosport Race Park, he captured the checkered flag in the Motorola Cup Series driving Comprep Racing Team BMW 328. That same weekend, Lally finished 5th in the U.S. F2000 National Championship Series.
For all World Speed Toyota Atlantic results from the 2000 season, please visit www.worldspeed.com. The 2001 Toyota Atlantic schedule is available on-line at www.toyota-atlantic.com.