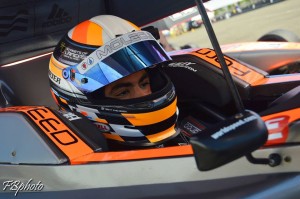 PORTLAND, Ore. (July 7, 2016)—Carter Williams of Clovis, Calif., drove to back-to-back FormulaSPEED victories at Portland (Ore.) International Speedway on July 1-2 to take the lead in The Formula Car Challenge presented by Goodyear Triple Crown National Championship and close the gap in the chase for the FCC West Coast Regional Championship.
Williams' opening-round victories in the three-round, six-race National Championship lifted him to a 58-50 advantage over World Speed Motorsports teammate Jonathan Sugianto of Alhambra, Calif. Williams also chopped eight points from Sugianto's lead in the FCC West Coast points and trails 265-260 with two rounds and four races remaining. The National and West Coast Championships will conclude with doubleheader events at Sonoma (Calif.) Raceway Sept. 16-18 and Auto Club Speedway in Fontana, Calif., on Oct. 29-30.
"I had an incredible weekend in Portland," the 17-year-old Williams said. "I was fastest in practice, qualified on pole, won the race and had the fastest lap on Friday. I had the same results on Saturday with the exception of fast lap. The Portland track was great. It was fast with a couple of technical corners, which truly made the difference.
"I'm very happy to have the lead in the National Championship and the two wins were huge for me in the West Coast Championship. I don't know if I would have had a chance at the West Coast Championship without these two wins. I think I would have been too far behind (Sugianto)."
Williams has four victories, four second places and two thirds in the 200-horsepower Mazdaspeed MZR-powered FormulaSPEED GEN2 chassis.
The FCC is part of the Mazda Road to Indy program and winners of the Triple Crown become semi-finalists in Mazda's MRT24 $100,000 scholarship program.
Williams, who will be a freshman at Cal Poly San Luis Obispo starting in the late summer, was chosen to receive a scholarship from VMB Driver Development and World Speed Motorsports to compete in it this season. The 2016 season is Williams' first in a racecar.
Carter Williams 2016 results in Formula Car Challenge's Formula Speed class:
March 19         Mazda Raceway Laguna Seca, Monterey, Calif.       2nd
March 20         Mazda Raceway Laguna Seca, Monterey, Calif.       3rd
April 16           Thunderhill Raceway Park, Willows, Calif.               2nd
April 17           Thunderhill Raceway Park, Willows, Calif.               1st
May 14            Thunderhill Raceway Park, Willows, Calif.               1st
May 15            Thunderhill Raceway Park, Willows, Calif.               2nd
June 18            Sonoma (Calif.) Raceway                                           3rd
June 19            Sonoma (Calif.) Raceway                                           2nd
July 1               Portland (Ore.) International Raceway                       1st
July 2               Portland (Ore.) International Raceway                       1st
CONTACT: Tim Tuttle – Carter Williams Racing public relations – 765 721-7599 Timetuttle@aol.com