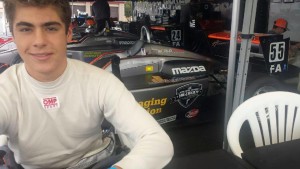 Carter Williams of Clovis, Calif., will make his debut at Portland (Ore.) International Speedway Friday and Saturday, racing in the FormulaSPEED championship in The Formula Car Challenge presented by Goodyear, It will be the 17-year-old's first visit to Portland and its 1.9-mile road course.
"It will be a new experience all the way through," Williams said. Williams trails World Speed Motorsports teammate Jonathan Sugianto of Alhambra, Calif., 215-202, in the points with eight races completed and six remaining.
Williams, who graduated from Sanger High on June 10, has two victories, four second places and two thirds in the 200-horsepower Mazdaspeed MZR-powered FormulaSPEED GEN2 chassis. He finished second to Sugianto on June 19 and third on June 18 at Sonoma (Calif.) Raceway in the most recent races in the series.
"The weekend at Sonoma was solid," Williams said. "I managed to finish second and third. I would have liked to have finished better, but there were some issues with the car–why we were losing time in the last sector of the circuit–that we did not figure out until the last race on Sunday. But, I brought the car home in one piece and I am anxious to fight hard again in Portland."
The Formula Car Challenge is part of the Mazda Road to Indy program. Williams, who will attend Cal Poly San Luis Obispo starting in the late summer, was chosen to receive a scholarship from VMB Driver Development and World Speed Motorsports to compete in it this season. The 2016 season is Carter's first in a racecar.