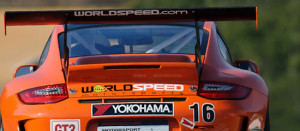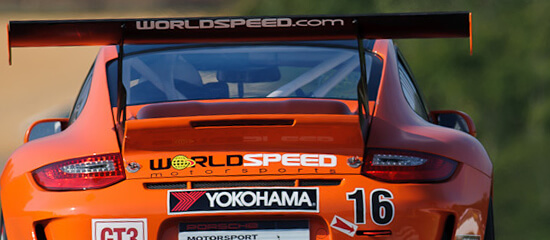 The IMSA GT3 Cup Challenge visited Lime Rock Park this past weekend during the American Le Mans Northeast Grand Prix. Chris Cumming put his Innovative Fitness/World Speed Motorsports #16 GT3 on the front row for round seven's race. In the race he worked hard to retain his position, and came home with a second place trophy to add to his collection of IMSA GT3 Challenge trophies.
"I lost third place early on, but I put my head down and tried to turn consistent laps, just putting corner after corner together," explained Cumming. "My team did a great job, the car was great the whole run. I'm so glad to get back to the podium where I think we belong."
WSM Porsche Team Manager John Olsen had this to add, "It's great to be back! Chris showed great speed and excellent composure while holding off Cisceros and Pena during the race. We're looking forward to keeping this momentum going for the balance of the season."
The IMSA GT3 Cup Challenge by Yokohama features semi-professional drivers racing head to head in the largest single-make series in North America. Powered by one of the world's most successful race cars, the Porsche 911 GT3 Cup car, the multi-class structure of the series teaches drivers essential skills for an eventual career in the American Le Mans Series presented by Tequila Patrón. The series is divided into two classes; the Platinum Cup, featuring the more powerful 2011 and 2010 Porsche 911 GT3 Cup cars, and the Gold Cup, which includes 2005½ – 2009 Porsche 911 GT3 Cup cars.
The IMSA GT3 Cup Challenge by Yokohama will be back on the track in two weeks as part of the Mobil 1 Presents the Grand Prix of Mosport July 23 and 24.