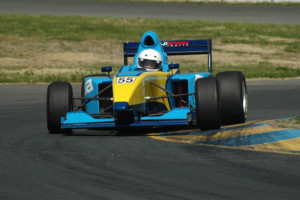 Richard Fullerton claimed his first victory of 2005 at the non-points race event held this weekend at Infineon Raceway. Fullerton was on pole and held a commanding lead throughout the race. Patrick O'Neill finished second, with Frank McCormick rounding out the podium.
The weekend was also attended by standard FM drivers JD Abouchar, Jim Mali, Bill Weaver, Morgan Savacool, and Mike Hohndorf. The standard FM drivers used the weekend as practice for next week's SCCA event at Thunderhill.
World Speed's latest PFM driver Tom Hughes drove a flawless event, finished 4th, and turned very respectable times for his first weekend.
Michael Guasch, Stan Kohls, and Claudio Cornali ran the weekend in the Jim Russell Racing formula cars and will have their new Pro Mazdas ready for the WSM Buttonwillow test later this month.
Series info: www.WestCoastSeries.com