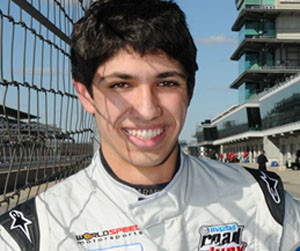 Rookie Kyle Kaiser won the FCC presented by Goodyear Pro FM Championship with World Speed support this season. The FCC West Coast Region, which is in its eighth season, features a 14-race schedule. Eight of the races took place at Infineon Raceway including the FCC National Championships which took place during the IZOD IndyCar Grand Prix of Sonoma.
Kaiser won 8 races and was on the podium in 11 out of the 14 races. The team is planning to enter Kaiser in the 2013 Star Mazda Championship. "Over forty different racers competed in the series this season, including 14 in the Pro Formula Mazda class," noted Series Official Ben Hettema. "Kaiser was competitive right away, and by his third weekend he had beaten both the 2011, and 2010 champions to the top of the podium which was very impressive."
"Kyle has tremendous ability, which lead to some great performances in 2012. This next year will be exciting, and an uphill battle as he will have less experience than most, if not all if his competitors" noted his coach Mikel Miller. "He's a smart young man, with an incredible opportunity, and we can't wait for the 2013 Star Mazda season to start!"
Kaiser had this to add, "The goal of this first season was to get accustomed with the new car and team. Formula Car Challenge was a great opportunity to be able to practice in real racing situations and improve on my own skills throughout the year. One thing that I have really improved upon would be my ability to relay information to my engineer. I definitely feel like I am prepared and ready to go for it next season. I'm very excited to be able to run with World Speed Motorsports in the 2013 Star Mazda Series. I am confident going into next year with World Speed and I feel that we will be a top competitor."
World Speed Motorsports has already begun testing in preparation for the 2013 Star Mazda presented by Goodyear Championship, and has been working with some new drivers who may also be joining the team for 2013.
---
World Speed Celebrates 21 Successful Consecutive Seasons
WSM was able to add a few additional trophies in addition to the FCC Pro FM Championship. "We raced at over 50 events, and many of our drivers saw some levels of success. Some won races, some broke track records, while others improved their performances session-by-session," said World Speed Motorsports President Telo Stewart. "We are proud of each and every one of the accomplishments made by our team and drivers in 2012, and we are anticipating a great 2013!"
NASA FCC National Championship: In August World Speed driver Michael Whelden was crowned the very first FormulaSPEED2.0 National Champion.
SCCA – NorPac and SoPac: World Speed drivers Renny Damon and Vince Gaddini decided to race in the SoPac region again for 2012. Damon finished the season as Regional Formula S Champion, and Gaddini secured 2nd in Formula Atlantic. Gaddini was also able to secure 2nd place in Formula Atlantic in the NorPac Region. Frank McCormick, who has been driving with World Speed for 18 consecutive seasons, finished in 3rd in the NorPac Formula Atlantic Championship. World Speed Formula Mazda racer Jeff Tucker was able to secure 2nd place in NorPac points even though he was unable to make all of the events.
---
What We're Thankful For:
World Speed would like to thank all of the drivers, and crew who made 2012 so successful. This season would not have been possible without the help of all of our great vendors, the support of all of the exciting race series that we compete in, and of course our team partners: Goodyear, Mazda USA, MAZDASPEED Motorsports Development, Red Line Oil, GoPro, and NASA Pro Racing.