World Speed Motorsports and Championship Winning Engineer Return to the Star Mazda Series TOGETHER for 2013 Pro Formula Mazda powerhouse team and Kent Stacy team up to build a formidable partnership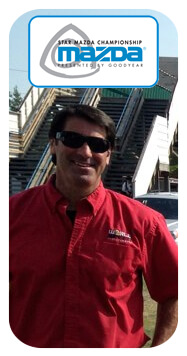 It was announced earlier in the season that World Speed Motorsports is planning a full time return to the Star Mazda Championship presented by Goodyear in 2013. Kent Stacy will be the lead engineer of the effort, and has been working with the team since mid-2011. World Speed and Stacy have won eight overall Star Mazda Championship titles, and have accumulated countless race wins. Last season Stacy engineered Turner Motorsport's BMW racecars, and they won the Grand American Road Racing GS Driver and Team Championships.
"We have always prided ourselves on our engineering and all of Kent Stacy's experience is a perfect continuation of that, he and all of the team work very well together," stated World Speed Team Owner Telo Stewart. "Star has always been one of our homes in racing and we are both looking forward to being back at it with the right drivers and team," added Stacy. Both World Speed and Kent Stacy are based at Sonoma Raceway in California which makes on and off season testing convenient.
WSM and Stacy have been working with up-and-coming driver Kyle Kaiser. Kaiser is currently leading the Formula Car Challenge presented by Goodyear West Coast Region points battle, and has won races in SCCA and NASA this season. "Kyle has been a welcomed addition to the team, he is fast and just keeps getting faster," noted Team Manager John Olsen. Olsen last worked in the Star Series full time as World Speed's coach in 2006 when the team won the overall championship. Kaiser is committed to run in the 2013 Star Mazda Championship with World Speed, and the team is looking for two suitable teammates for Kyle.
"World Speed Motorsports has always been about developing champions," noted Communications Director Mark Milazzo. "A lot of teams talk about development, but we have the tools and manpower to implement it. I don't know of any other team who has designed their own development racecar, racing series, and who travel to as many races as we do." Last season World Speed competed in 60 unique races, and participated in well over 100 test days with their three full size transporters. The team also won 4 open wheel championships in 2011.