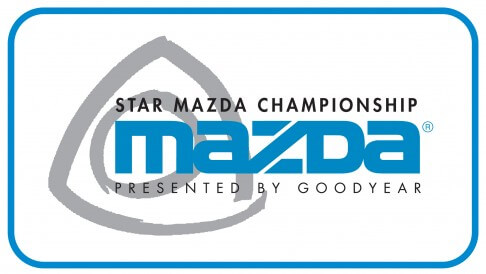 Las Vegas, NV. — While he shares a winning heritage with his legendary father, Jeff Bucknum is quickly making a name for himself as one of professional racing's most promising rising stars. As the son of late Formula One, Indy Car, Trans-Am and sports car legend Ronnie Bucknum, Jeff has clearly lived up to his family name with a consistent record of wins, poles and front-running performances in virtually every type of car he's driven.
This weekend, Jeff Bucknum continues his assault on the Star Formula Mazda series in the season finale at Las Vegas Motor Speedway, following a win last weekend at Buttonwillow Raceway Park, near Bakersfield, California. "The Las Vegas road course is the type of track that really suits my driving style," said Bucknum, who is currently second overall in the Star Mazda Series West Division Championship with a solid shot at taking the title this weekend. "It's very fast and smooth, yet it has some technical aspects that require a lot of skill to get right. With the Mazdas, it's extremely important to not scrub off any speed and to be as smooth as possible. And I feel that that's one of my strong points."
In his second year of Star Formula Mazda competition, again driving for World Speed Motorsports, Bucknum has recorded two wins, eight podiums and one pole thus far in the #14 WSM/Shames Construction/Red Line Oil Formula Mazda.
While Jeff's racing roots can be traced to his father, who was best known as Honda's first Formula One driver and who also drove Roger Penske's famed Sunoco Camaro in the Trans-Am series, he got a relatively late start in racing following several years on the professional surfing tour. Like many of today's brightest rising stars, Jeff honed his driving skills on the highly competitive southern California karting circuit. Naturally, he found that racing was in his blood and running up front was in his heart. The result was a number of victories and championships, as well as the opportunity to move into the Skip Barber Formula Ford series.
The transition into Formula Fords in 1992 reinforced Jeff's winning ways as he captured his first victory in his very first race. He followed up with another victory in his second race, this time in the rain. His first full season of Formula Ford competition in 1994 resulted in ten podium finishes from twelve races, three wins, and second (by just one point) in the series championship.
Naturally, his front-running form continued for his pro racing debut in 1995 by qualifying on the front row in his first Barber Dodge Pro Series race. He then went on to capture his first professional victory later in the season with a convincing flag-to-flag win at Mid-Ohio. Another season of Barber Dodge featured more podium finishes, followed by several opportunities to test in Indy Lights and Toyota Atlantic.
Bucknum currently resides in Las Vegas, and when not on the road for the Star Mazda series, serves as the chief instructor for the Derek Daly Performance Driving Academy located at the Las Vegas Motor Speedway motorsports complex.
Joining Bucknum in the World Speed Motorsports Star Mazda stable are series' first-timers Grant Ryley, Pierre Ehret and Alex Figge as well as returning veterans Bryan Willman, Frank McCormick, and Ginni Swanton.
World Speed Motorsports' dominance of the Formula Mazda series includes six championship and five pro series Rookie-of-the-Year titles since 1991. Most recently, the team captured five wins (Mike Miller – 4, Bucknum – 1) and two poles (Bucknum) en route to second (Miller) and third (Bucknum) in the 1998 Star Formula Mazda Pro Series championship. The Star Mazda Series race at Las Vegas Motor Speedway is scheduled for Saturday, November 6, part of the American LeMans Series weekend.