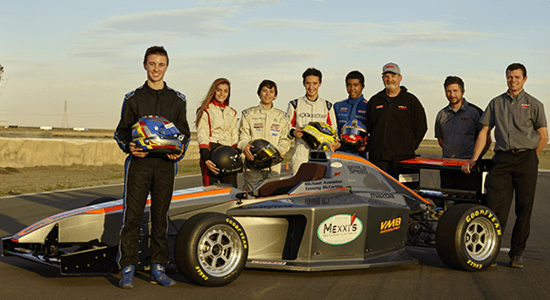 The WSM Rising Star Awards have been provided to up and coming championship caliber racers for over 20 years. This year there were four recipients chosen to test with World Speed Motorsports. Past award recipients have gone on to race in Formula One, win races in NASCAR, win the 24 Hours or Daytona and 12 Hours Sebring, and secure the Indy Lights Championship.
For the second consecutive season VMB Driver Development was co-sponsoring the test, and would select one driver to receive a full scholarship in the 2015 FCC presented by Goodyear.
Michael Avansino from Pleasant Hill California was the driver selected to represent VMB in the upcoming season. "All the drivers did incredibly well, as we expected they would," noted WSM Team Owner Telo Stewart.
"It is great that we were able to provide the testing opportunity to these young racers, and help them learn more about working alongside industry professionals. We expect to see great things from this year's award winners, based on what we have seen from our past selections. We are also excited to add Michael to the team for 2015, and look forward to working with him all season!"
Quote from Michael Avansino:
"I want to thank World Speed Motorsports and VMB Driver Development for the wonderful opportunity to compete for the 2015 WSM/VMB Scholarship. It's an honor to have been selected to represent the team in 2015. The field of competition was incredibly tough and I loved every minute of it. I am very excited to be working with WSM and VMB and I can't wait to be on the track with the team. I know I have a lot to learn, and I look forward to developing my skills further as a race car driver and preparing myself for the future. I will represent both WSM and VMB with a professional attitude and the commitment to continuously improve both on and off the track."
Quote from Michael's parents Anthony & Debbie Avansino:
"We would like to thank VMB Driver Development and World Speed Motorsports for creating a great opportunity to develop young drivers. We are thrilled to be a part of the program and the WSM and VMB family. They demonstrated a high level of professionalism, expertise, team commitment and the ability to create an environment that is both enjoyable and informative for everyone. This is a key part of their continued success.
We are excited and looking forward to working with an extremely talented organization. None of this would be possible without the generosity of VMB and Steve Brisentine and everyone at WSM. We are extremely grateful for this opportunity and can't wait for the 2015 season to begin."
For more information visit VMB Driver Development LLC