16 Year Old WSM Rising Star Award Winner Impresses Team
Michael Self, who is scheduled to race in 2008 with Skip Barber, got a taste of what could very well be his 2009 or 2010 race car a little earlier than he probably expected. The 16 year old karting prodigy from Utah took advantage of his free Pro Formula Mazda test with World Speed Motorsports today at Buttonwillow Raceway Park.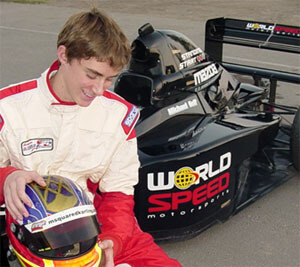 "This was a great test day overall, and I couldn't be more pleased. World Speed Motorsports is an amazing group to work with," stated Self. Self was chosen for the Skip Barber scholarship award and World Speed test by a panel of judges, including Champ Car driver Justin Wilson who witnessed his amazing display of driving at the 2007 Champ Car ROTAX Grand Nationals.
"We are blown away by the amount of support Mazda has brought to the North American racing community," stated World Speed Motorsports Operations Manager Mark Milazzo. "Finally there is a solid ladder system that will take a talented racer from karting all the way to Champ Cars. Michael did an unbelievable job today, and we hope we were able to get him pumped for next season. It was obvious to us right away why he was chosen as the Skip Barber scholarship winner."
The World Speed Motorsports Rising Star Awards have been helping young racers move up the open wheel racing ladder for years. Some past Rising Star Award winners have included Scott Speed, Michael McDowell, Brad Coleman, Joey Hand, Cole Whitt, Alan Scuito, & Ryan Phinny. Many of these drivers have gone on to win in upper level open wheel, stock car, and sports car races all over the world. World Speed Motorsports won the Star Mazda championship in 2006, and has won more Formula Mazda championships than any other team.
Self's scholarship at the Skip Barber Regional Series level will put him one step closer to the first echelon in the Mazda Ladder System and will allow him to compete in the largest open-wheel amateur championship in North America. From the Skip Barber Regional Series, drivers have a chance to move on to the BFGoodrich/Skip Barber National Presented by Mazda, then jump up to the Star Mazda Championship Presented by Goodyear and finally follow in the footsteps of Graham Rahal, James Hinchcliffe and Raphael Matos and graduate to the Cooper Tires Presents the Champ Car Atlantic Championship Powered by Mazda. Winner of that series is presented with two million dollars from the Champ Car World Series towards a Champ Car ride which completes the ladder from Karting into Champ Cars.