Skip Barber standout, and multiple championship winning karter visits California based Star Mazda team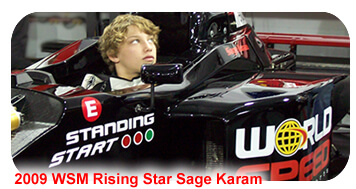 Sage Karam the 14 year old karting phenom from Nazareth Pennsylvania came to World Speed headquarters in Sonoma, CA on Monday to get fitted to a Pro Formula Mazda. At the Skip Barber awards banquet Karam was chosen as one of the recipients of this year's World Speed Rising Star Award.
The award provided Karam with a free test with World Speed Motorsports. In 2009 Karam was a MazdaSpeed supported driver In 2008 he was the youngest winner of the Skip Barber Scholarship Shootout. Karam has 33 national karting titles to his name. His most recent title was won in Charlotte earlier this month at the World Karting Association's Grand National Championship.
"With all of the good things we have heard about Sage, we were expecting to have a very productive test," stated team owner Telo Stewart. "Sage didn't disappoint us, he is mature beyond his years, and would certainly be a contender in the Star Series if that is his goal."
"I immediately felt comfortable in the car and really enjoyed the speed. It was the most incredible experience I ever had and the amount of grip amazed me", said Sage. " I'd like to thank my manager, Mr. Michael Fux, World Speed Motorsports' Telo Stewart, John Olsen and Standing Start driver coach Scott Bradley. Mike Doyle in engineering and the mechanics Jan and Kevin, did a fantastic job of keeping me on the track and performing at speed."
Karam's young age will deny him Pro Star Mazda competition until he turns sixteen . "After the effort that World Speed put forth, I would definitely consider driving for them down the road. They are a professionally run organization that takes racing seriously. I felt that I fit right into their team."
The World Speed Motorsports Rising Star Awards have been helping young racers move up the open wheel racing ladder for years. Some past Rising Star Award winners include Scott Speed, Michael McDowell, Brad Coleman, Joey Hand, Cole Whitt, Alan Scuito, Joel Miller, and Conor Daly. Many of these drivers have gone on to win in upper level open wheel, stock car, and sports car races all over the world.
Over the winter World Speed Motorsports is testing drivers in preparation for the 2010 Star Mazda presented by Goodyear championship. Court Vernon, who also received a Rising Star Award, is the next driver on the WSM test schedule. Vernon will test at Infineon Raceway in December.
Sage's plans for 2010 have not yet been determined. Please check his website for updates and announcements. Sage would like to thank the following supporters – Mr Michael Fux, Alpinestars, Bell helmets, Orwig Property Management, Oso*Fresh, Artrotundo and his parents.