The World Speed Motorsports team has returned to Sonoma after a tough double header at The Grand Prix of Houston at Reliant Park last weekend. When the team and its four drivers arrived at the track it wasn't quite ready yet. This meant that no one could walk the track in advance. "The weekend was pretty tough for all the teams," stated WSM Team Owner Telo Stewart. "Most of our drivers have had a very limited amount of experience on street courses, and the constant changes and limited track time made this a bigger challenge than most. Amazingly, all four of our drivers were able to come out of the weekend with a personal victory."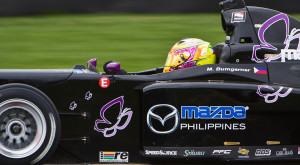 Construction on the course around Reliant Park could not begin until afterthe Houston Texans' Sept. 29 game, so nobody had a clue that there was a huge bump in Turn One. Once the bump was discovered, IndyCar was forced to delay track activity. The series cut some sessions out of the schedule, and added a chicane of tires that would force drivers around the bump. The series removed, and then added the chicane back over the very few sessions that the Pro Mazda Championship drivers had.
Series Rookie Kyle Kaiser qualified 10th, and secured two 8th place finishes over the weekend. This was the last race of the 2013 season, and Kaiser finished 7th overall in the championship. "Kyle is on a two year plan with us," noted Stewart. "He has had multiple top five finishes, and has been an excellent student of the tracks we have visited. The last time we ran a driver in this type of program was 2005/2006 with Ace Carrio. In 2005 Carrio finished 7th in points as well, but never broke into the top five all season. In 2006 he broke most of the track records, and we won the overall championship. We're looking forward to seeing what Kyle will accomplish in 2014!"
As is usual with street courses, there was very little room for error and WSM drivers Michele Bumgarner and Bobby Eberle both had shunts early in the weekend. Eberle's shunt was in qualifying for race one and completely destroyed his car, but not his spirit. "If we won the Expert Series race on Sunday we would secure the entire championship, and Bobby wasn't going to let this setback slow him down," said Stewart. "JDC Motorsports was kind enough to lend him a spare car for the race, but it took him a few laps to really get into a groove. By then, Jay had too much of a lead on us. It was just great to see Bobby step up and get back on the 'horse' again" and finish on the same lap as the leaders."
Bumgarner's shunt happened in the very first session, and really could have affected the balance of her weekend if she didn't have the perseverance and character needed to push towards a good result. Bumgarner really focused on what needed to get done, and she secured a top ten and the QuarterMaster Hard Charger Award.
Michael Whelden, the 2013 FCC presented by Goodyear National Champion in Pro FM, came out for his very first Pro Mazda Championship weekend. Whelden showed good pace in race one, and finished in 9th place. Here is what he had to say about race two, "Race two of the weekend was also a tough affair. I had to avoid a lap one wreck in front of me that made me lose two positions. I then made a couple of terrific passes to get back up to 7th position, and I put in a very competitive time during the race. I made a mistake on lap nine and did not compensate for it, and paid the price hitting the wall exiting turn eight ending my race. In total I take many positives from the weekend, both showing good pace with limited experience, and getting a good feel for how the Pro Mazda championship is run."
The team has already begun winter testing, and will also race in the off-season in preparation for the 2014 Pro Mazda Championship presented by Cooper Tires.
More info: