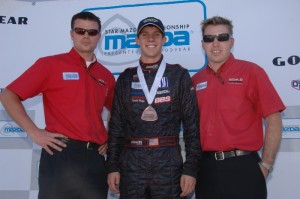 World Speed Motorsports and Ace Carrio took pole position and the Star Mazda Championship this weekend at the Laguna Seca finale. In the race Carrio brought the #14 World Speed Motorsports Rockford Fosgate Mazda home in the final podium position. "I was really hoping that we would be able to stay green this weekend in what was my last Star Mazda race as I look to move up to the Champ Car Atlantic Series next season," the seventeen-year old said. "Ryan was able to get the jump on me at the start as I was looking to protect my car and Michael got a run on me in turn five but we never got a chance to really race each other. It feels good to take the championship and I have to thank my crew at World Speed Motorsports. I also have to thank Rockford Fosgate and Barry Shames for sponsoring me this season as without their assistance I couldn't have gone racing."
At the banquet Emile Tabb World Speed's Crew Chief and the #1 mechanic on Ace's car was honored with the Hawk Brake Crew Member of the Year Award. Emile has worked at World Speed since 2001 when he was a mechanic on Scott Bradley's Championship car. "Emile is the best mechanic I have ever worked with," noted WSM Team Manager Mark Milazzo "and I would clone him if I could. It is fitting that he won this award, as he has put 110% into the #14 while still fielding technical questions from our headquarters and dealing with training our entire crew." The award included a check for $2500.
In the Star Mazda Team Championship, WSM finished second. "We really wanted to lock the team championship as well, and came very close," stated Team Owner Telo Stewart. "We knew it was going to be extremely difficult, with some of the teams running three cars for points and WSM only running Ace. Finishing second only 14 points behind John Walko Racing was really a testament to the hard work the team put in all year. JWR did a great job this year, and we would like to congratulate them on their victory."
"We couldn't have had the kind of year we had without all the hard work of the entire WSM crew," added Milazzo. It also helped us to have the input, support, and encouragement from all the World Speed Russell Pro Series drivers. We have a lot of big things coming down the road in 2007, including our new 10,000 square foot facility. It is going to be hard to make 2007 a more productive year than 2006, but that is what we are shooting for."
Round Twelve of the Star Mazda Championship presented by Goodyear is scheduled to air on Speed Channel at 3:00 PM Eastern Time on Sunday, October 29th.