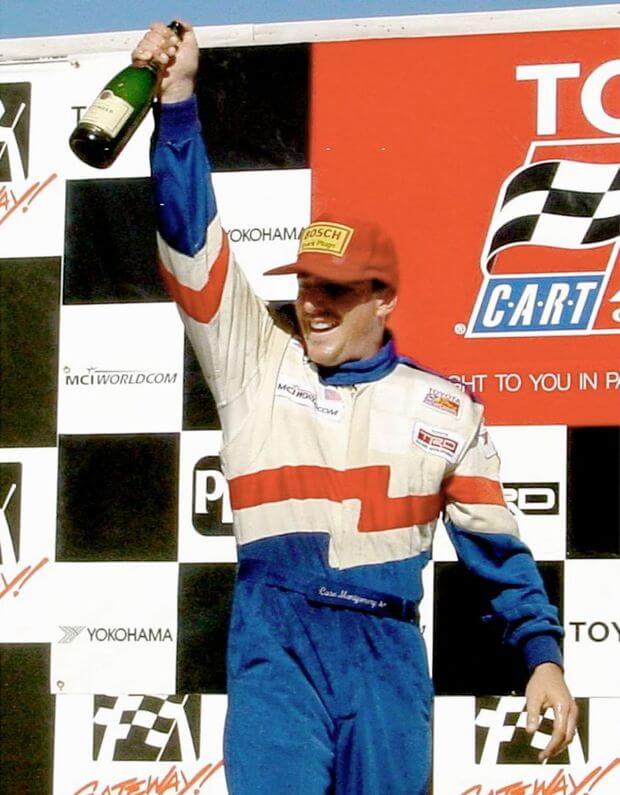 The World Speed Motorsports team proudly captured the win this afternoon at Gateway International Raceway in Madison, Illinois for round 11 of the CART Toyota Atlantic Championship series.
"This is our first Atlantic win, my first as a team owner in the series and I couldn't be more proud of the guys and Mike Doyle, our engineer. Mike has been with me for nine years and he always puts together a competitive oval package. This win has been a long time coming. It's awesome for the team,"  said an enthusiastic Chuck West, team owner of World Speed. "Case did a fantastic job, he started from the pole and finished first, what more could we ask for."
When green flag dropped Montgomery, hurried out of the box to hold off second place Buddy Rice, but Rice was quick to pass Montgomery in Turn One for the front position.
"Buddy and I were battling it out from the beginning. We both fought to hold onto to first place. But, Buddy stared to loss a little ground around lap 14 or so and that's when I was able to move past him. After that I was just hoping for a green race so I wouldn't lose my lead," said Montgomery, who widened the gap and held off Rice by an 8.965-second margin of victory, allowing Montgomery to capture the checkered flag.
"There is absolutely no feeling like winning! My car was tremendous and Mike Doyle and the guys at World Speed Motorsports did a perfect job. It was great dicing with Buddy in the early laps, " said Montgomery, who in addition to his victory set a new track record for fastest lap, turning a time of 30.086 seconds. "I have so many people to thank, especially Chuck, Mike and Rick Waddell of Northwest SpeedWerx and all of the guys. I'm very grateful to the entire team," said Montgomery.
Montgomery, who just last weekend finished 9th at Laguna Seca, began racing in the Atlantic series in 1995, but this win is his first on an oval in the Atlantic series. It's his third career Atlantic win with other wins at Laguna Seca in 1995 and Long Beach in 1996.
World Speed rookie, Akihiro Asai only added to the excitement of the World Speed victory when he fought his way to the front of the pack finishing 5th, respectively, in his second oval race of his professional career.  "I didn't have a good start and I dropped a couple of positions. Once the traffic thinned out, I was able to gain momentum and start passing. I think I could've been on the podium if I had a better start. This is only my second oval race of my career, so I'm very happy with fifth place. The World Speed crew gave me a great car," said Asai, who first joined the World Speed team back in June at the Milwaukee Mile where he competed in his first oval race finishing 15th.
"Aki is the real deal. He has got the fire. Aki has what it takes to be a consistent front-runner in this series. This is just the beginning for him," said West.
World Speed Motorsports is considered one of America's most dynamic racing organizations, featuring entries in CART's Toyota Atlantic Championship, as well as the Star Mazda Pro Series. Founded in 1991 by West, World Speed initially focused on the Formula Mazda series where West finished third overall and won the Rookie-of-the-Year title in his first season as an owner/driver. 1992 resulted in the series championship by virtue of West's five wins, ten podiums and three track records.
Since then, World Speed has captured six Formula Mazda championship and five pro series Rookie-of-the-Year titles under West's guidance and Doyle's engineering expertise, featuring such drivers as Ben Massey, Pete Wise, Mike Conte, Mike Miller, Jeff Bucknum and Grant Ryley.  Last year in Atlantic, World Speed campaigned French-born Brazilian Nicolas Rondet, who averaged a top five running position at every race and captured a podium finish in Trois-Rivieres.
The race will be televised on ESPN2 and ESPN International, Sunday, September 24 at 6:30 p.m. with a repeat broadcast on Thursday, September 28 at 6:30 p.m., and on RDS, Saturday October 7 at 10:30 a.m. All times are Eastern.
The final round, round twelve of the CART Toyota Atlantic Championship season takes place on the streets of Houston, Texas, Sunday, October 1, part of the Texas Grand Prix of Houston CART FedEx Championship weekend.