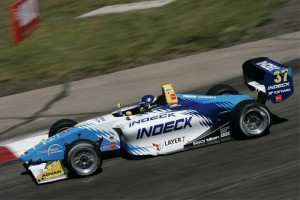 2001 Star Mazda Champion Scott Bradley will be assisting 2006 Champion Ace Carrio at his test at Thunderhill with Forsythe Championship Racing later this week. Bradley who won the championship with World Speed Motorsports will be working alongside the newly crowned World Speed Motorsports champion as he does his best to show well at his first Champ Car Atlantic test.
"Forsythe Championship Racing is a powerhouse Atlantic team and Champ Car team, and it is important to show them what I am capable of and to make a good impression," stated Carrio. Carrio has been a real proponent of driver coaching and has worked with John Olsen of Standing Start since he made the progression from karts to cars. "Unfortunately John wasn't available for this date, but he was able to pull from his long list of pro coaches and found that Scott could fill in for him. I'm really looking forward to the test and working with Scott. He's got a ton of race miles at Thunderhill, and was a World Speed Atlantic test driver so I think John really found me the best guy for the job."
Bradley is the Sales and Marketing Manager for the Star Mazda Series, and has watched Ace progress over the past two seasons. "Ace really showed well this year, and proved that if you set a goal and work towards it, you will succeed," said Bradley. "I'm glad I could be available to help our champion move up the Mazda Motorsports ladder." Both Bradley and Carrio worked up a two year program with World Speed Motorsports, stuck to the program, and came out on top at the end of it.
"We have worked with many drivers," stated WSM Team Manager Mark Milazzo. "The ones who realize how important it is to set goals and follow a program have been the most successful. Racing is a very difficult and stressful sport, when things go right there are incredible highs and when they go wrong there are some very low lows. Decisions can't be made during these swings or you'll get off your plan. We always knew that, but the past two seasons working with Ace and his coach John Olsen has really helped solidify our belief in this process."
Standing Start is the highest standard in driver coaching and development. Their program is designed to take your performance on and off the track to the next level. It is for the serious racer who wants to get the most out of themselves, and to improve every weekend.
World Speed has won more Star Mazda Championships than any other team, and has never finished lower than 2nd in the Championship whenever the team ran the complete season. The team has won in every category they have competed in including Formula Renault, Star Mazda, and Champ Car Atlantic.
Graduates of the Star Mazda Championship presented by Goodyear have taken the racing world by storm in 2006. In addition to victories by Patterson and Braun in the Rolex Sports Car Series Marco Andretti became the youngest driver to win an IndyCar event with his victory at Infineon Raceway, backing up his second place finish in the Indianapolis 500; 2005 Champion Raphael Matos and fellow 2005 race winner Jay Howard captured victories in the Indy Pro Series, with Howard claiming the title; Matos, Graham Rahal, Robbie Pecorari and James Hinchcliffe all climbed the top step of the podium in ChampCar Atlantic competition; Brad Coleman rolled to victory at Kentucky Speedway in ARCA; McDowell and Mikel Miller earned victories in Grand Am Cup; and 2002 graduate Scott Speed is completing his first full season driving for Scuderia Torro Rossa in Formula One.