Novato's Stewart grooming drivers for next level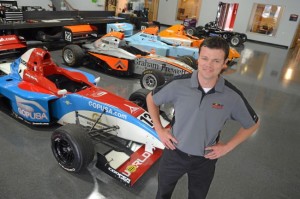 This weekend's GoPro Grand Prix of Sonoma sees 22 IndyCar drivers competing in the highest level of open-wheel racing throughout the Americas. And in their midst at Sonoma Raceway will be a paddock full of aspirations with scores of drivers looking to claw their way into those ranks of the truly elite.
The Verizon IndyCar series has for decades provided a path to get to that pinnacle, now called the Mazda Road to Indy where drivers progress through the USF2000 series, Pro Mazda and the Indy Lights series to try to earn a seat in IndyCar. And Novato's Telo Stewart and his World Speed Motorsports team are looking to once again establish themselves as a major player in that critical second tier.
Stewart will run five cars in this weekend's Pro Mazda race, the season finale. Joining his regular drivers Bobby Eberle and Michele Bumgarner will be veteran Stan Kohls and a pair of young hot-shoes looking for that next step up: Alex Keyes and Joey Bickers.
"We are mid-level in the Road to Indy, and our job is driver development," Stewart said. "We're grooming drivers to move up. In the best case scenario at the Pro Mazda championship level, a driver is going to move up to Indy Lights after one or two seasons. And our job is to get them ready for that."
World Speed has a long history of bringing up the most talented young drivers, particularly when the series was known as Star Mazda in the 1990s when they really were the team to beat in that class. They took their first Star Mazda championship in '91 with team founder Chuck West and another a decade later with Scott Bradley. They ran cars for drivers in Formula Renault and Formula Atlantic as well, grooming talents like current NASCAR racer Michael McDowell and former IndyCar racers Jeff Bucknum and Mario Moreas.
After taking over the reigns of World Speed in 2003, Stewart started to put together a regional ladder series of his own, the Formula Car Challenge based on the West Coast running Pro Mazda chassis. While WSM was an entrant, anyone with a Pro Mazda car could compete. World Speed has won most of those championships, starting with the first two with Kohls through last year's champion, Sausalito driver Michael Whelden.
It was the FCC that helped keep World Speed afloat after the economy took a dive in 2008. For the first time in the team's history they didn't run Pro Mazda at the national level from 2010-'12.
"It was very much tied into the economy. A lot of the drivers either themselves reeled things in or their sponsors or supporters reeled things in," Stewart said. "That's a tough thing for a team to get back in after a couple of years away."
Through that fallow period they still prepped and ran cars in local amateur racing and built upon their strong legacy of driver coaching. That's the foundation they can always fall back on.
"World Speed has been a wonderful team to be a part of," said Kohls, who has driven with the team in the FCC since 2005. "They are very organized, and have great coaches and engineers. As a result, I have been able to continually improve my driving abilities and skills over the years."
Stewart also developed a lower rung on their ladder with former team manager John Olsen called Formula Speed 2.0 to run in the FCC. It's a lower cost alternative among the formula car ranks.
This weekend the team looks to underscore their resurgence. Eberle is leading in the Expert points in Pro Mazda for drivers over the age of 30 and looks to bring home that title for World Speed. Bumgarner is looking for her second top-10 finish. She's been a champion kart racer in the Philippines and has a huge following. But this is her first time in six years back in cars and the learning curve has been steep.
It's in drivers like Keyes and Bickers that Stewart hopes to show World Speed's true potential. Keyes has been one of Stewart's competitors in the FCC, winning nine of 10 races and finishing second in the other one. Bickers is a 2013 Team USA Scholarship winner, through that earning a ride in England's Formula Renault Winter Series.
If Stewart lands a driver or two of that pair's calibre for a full season next year, World Speed should be a fixture on the Pro Mazda podium. But WSM's future includes bolstering the lower rungs of the ladder.
"One of the really neat things we have going on is a partnership with VMB Driver Development which was started by Steve Brisentine," Stewart said. "We did a shootout last year and selected a driver to run a fully-funded season in Formula Speed 2.0 this year." That honor went to 14-year-old kart racer Jaden Conwright, who, now 15, leads that championship.
"Next year (Brisentine's) going to expand that program to include a Pro Mazda in Formula Car Challenge," Stewart said. "And we're hoping to partner for a fully subsidized ride in the (national) Pro Mazda Championship, which really nicely ties into our goal of getting a driver in one of our cars that's going to put us back up front."