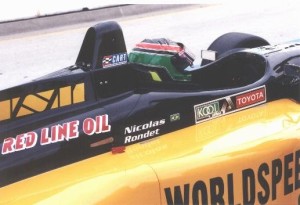 Chuck West, owner of World Speed Motorsports, today confirmed the signing of Nicolas Rondet as the first of an expected two-car World Speed effort to campaign the 1999 Kool/Toyota Atlantic Championship.
Rondet, 28, contested the final two Atlantic events for World Speed earlier this year – running as high as fourth in his Atlantic debut at Laguna Seca, then following-up with a third place qualifying performance in Houston. He will again compete in a Swift 008.a with continued support from Heftel Broadcasting Corporation (HBC) and long-time World Speed associate Red Line Oil.
"We're certainly going in the right direction," said West. "Signing Nicolas is a natural progression of our long-term goals and we're delighted that all of the pieces have come together to continue his development. Our intention was to introduce him to the series this year in preparation for a full season in 1999. He certainly surprised a lot of people and proved that he's more than capable of running up front. Nicolas clearly brings the experience and expertise to put us in the position to challenge for the championship."
"This is certainly a dream come true for me," said Rondet, who was born in France, raised in Sao Paulo, Brazil, and resides in San Diego, California. "Without the combined efforts of Chuck West and Bill Tichenor, this would never be happening. I feel very fortunate and really must thank both of them for this terrific opportunity."
As a Barber Dodge Pro Series front-runner and 1997 Rookie-of-the-Year, Rondet captured one pole position (Lime Rock) and three podium finishes (Cleveland, Grand Rapids, Mid-Ohio) in this year's series. Despite missing several events in order to focus on his Atlantic debut, he finished a remarkable seventh in the 1998 Barber Dodge championship. Rondet's international racing roots began nearly ten years ago on the Brazilian karting circuit. As his natural driving skill and some luck would have it, he progressed from karting to the highly-acclaimed European Formula 3 series, where he won four out of five races en route to the 1993 series championship. He then contested England's Formula Ford series and proved his mettle in sedan racing by taking the European Championship for the French Citroen Cup.
1995 brought Rondet to the United States to compete in the Skip Barber Formula Dodge two-liter series. Despite a limited schedule of just ten races in the 20-event series, he managed to finish fifth overall. Rondet took his experience to the 1996 series title as well as victory in the Skip Barber Big Scholarship Shoot-out. He advanced to the Barber Dodge Pro Series for 1997, finishing fifth overall with three podiums and one pole en route to the Rookie title.
While the second World Speed Atlantic seat has not been filled, the team has been in a series of discussions with several front-running candidates. A test session in early January is expected for selected drivers, followed by a formal announcement.