Chris Cumming Starts from the Front Row and Podiums in Series Finale Weekend
Series rookie closes the season fourth in the championship
Chris Cumming and the World Speed Motorsports crew had another successful race weekend in their Porsche GT3. The team traveled to the Patrón GT3 Challenge double header finale at Road Atlanta. "Chris has done a great job all season, and we are very proud of the progress he has been making in his and our first season of competition in the series," stated WSM Team Manager John Olsen.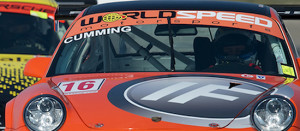 Cumming had this to add, "Our last race weekend of the year went pretty well. We missed our first pole of the season by just a few thousandths in Round 13 in wet qualifying conditions. The race started in wet conditions and we were running 2nd when the field was brought in to change to dry tires. After the restart we lost one position to score our fourth podium of the year. In Round 14, we were running strong in third before being hit from behind, which sent us to the back of the pack. A great call to pit for new front tires and a new splitter under the safety car allowed us to mount a late-race charge to climb from 13th to 6th overall. It wasn't quite what we wanted but was still a chance to show the speed we had.
The 2010 season was a successful debut for a new team and driver to the Patron GT3 Cup. The World Speed team showed it has the skills to step into a new series and car and go fast right away. I really want to thank Virg, Kevin, Bob, John, and Mikel for such a great season. Everyone worked so hard to learn the new car and did a fantastic job. I'm really proud of the guys and am looking forward to seeing what we can do in 2011!"