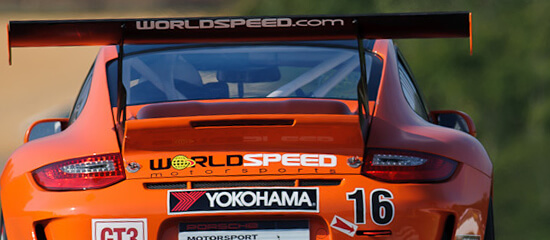 This past weekend was the American Le Man Series race weekend at Mazda Raceway Laguna Seca, and World Speed Motorsports showed up to the battle with two Porsche GT3 Cup cars. Drivers Chris Cumming and Dave Smith competed in the Patron GT3 Challenge in the Platinum and Gold Cup classes.
Saturday was round three of the series, and Chris Cumming qualified his 2010 Platinum car in 7th position. Smith, who is new to the car and series, qualified his Porsche in 8th position. "The race was wild," noted Team Manager John Olsen. "There wasn't a lot of green flag action, but when it was green there were cars bumping and rubbing and fighting hard for position. Chris and Dave both raced clean, and stayed out of trouble in a race that was chaotic." Cumming ended up one position shy of a podium finish in 4th, and Smith secured his first top ten in the series with a strong 7th place finish.
On the grid for Sunday's race Cumming started in row three, and Smith started in the sixth row. Both drivers got a great start and were able to improve their positions by race end. Cumming improved one position finishing 4th, and Smith moved up three spots securing his second top ten in the series.
The World Speed Motorsports GT3 team is now preparing the Porsches for an exclusive test day in early June before the long haul out to New Jersey Motorsports Park for rounds five and six.