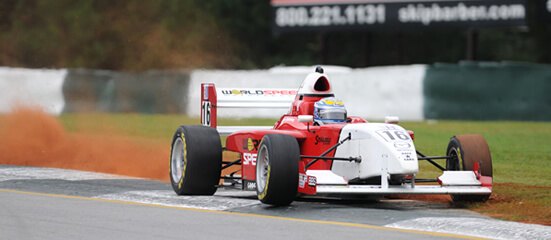 Cumming takes win in Georgia, and Damon receives Hard Charger Award in Wisconsin
This past weekend the Star Mazda series made their annual visit to Road Atlanta in Braselton, Georgia. Chris Cumming, the 2008 Star Mazda Expert Series Champion, fought his way back from stalling on the grid to score his 7th in-class victory of the year. "Chris did a great job all weekend, and we are really looking forward to the season finale at Mazda Raceway on October 10th. Chris is really good at Mazda Raceway and has a lot of experience there," stated Team Manager John Olsen.
This past weekend was also the 46th annual SCCA Runoffs, and World Speed Motorsports took Renny Damon in his custom Mazda RX8 powered CSR. Damon finished in the top ten in the car's first major race event. He also secured the Sunoco Hard Charger Award for moving up five positions in the race. The car is based on a Star Pro Formula Mazda and features custom bodywork, exhaust, cooling, and titanium paddle shifters. "The car was designed and built for endurance races, and the format at the Runoffs is a sprint race," stated Team Owner Telo Stewart. "We were really happy with how the car and Renny performed at this event, and are looking forward to doing our first endurance race later this month at Thunderhill." The team is planning on running at the Illgen Classic RDC 50th Annual 4 Hour Endurance Race October 23rd to 25th. "Our ultimate plan is to run in the longest endurance race in the world, the NASA 25 Hours of Thunderhill in December," added Stewart. "The four hour race will give us a good indication of what we need to do to win the NASA crown jewel.
The team is now preparing for the Molecule Formula Mazda Challenge double header at Thunderhill October 3rd and 4th. "We are testing on Thursday and Friday, so this is a quick turnaround," noted Operations Manager Mark Milazzo. "We are very fortunate to have all these back-to-back and consecutive events considering the current economic conditions. It is a lot of work, but our team is more than capable and willing to make things happen."