Chris Cumming wins third major title in as many years
Chris Cumming, who won the 2007 Star Mazda West Coast Championship and the 2008 Star Mazda presented by Goodyear Expert Championship with World Speed Motorsports, has added a new title to his ever growing resume. This past weekend at Mazda Raceway in Monterey California Cumming won the 2009 Star Mazda presented by Goodyear Expert Championship.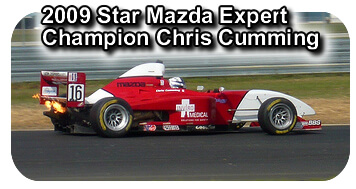 Cumming participated in ten races and was on the podium at every event with a total of seven wins. Cumming, who is based in British Columbia, joined the World Speed Motorsports roster in 2006. "We helped Chris secure his first two championships, and we're really glad that he asked us to come in and work with him in securing this year's championship. It was a little stressful taking the championship fight to the very last event but we were confident in Chris and our team to get the job done," stated Team Manager John Olsen.
2009 racing plans for Chris Cumming and World Speed Motorsports are expected to be announced in the very near future. In the meantime World Speed is still keeping busy planning for a 4 hour endurance race next week at Thunderhill, and also preparing for the Molecule Formula Mazda Challenge finale at Infineon Raceway on November 7th.