The GoPro FCC presented by Goodyear National Championships
Bill Weaver won in FM, Michael Whelden in FormulaSPEED, and Patrick O'Neill took the championship in Pro FM
Race fans were once again treated to the Formula Car Challenge presented by Goodyear during the Indy Grand Prix of Sonoma Aug. 24-26. This event marked the third time the Formula Car Challenge (FCC) has been be paired with the IZOD IndyCar Series in the Sonoma Valley. This weekend's event was scored as the Formula Car Challenge National Championship event. The National Championships were decided based on the sum of points from both races, as well as a point for the fast qualifier and a point for fast race lap in each class. This was the first time that the National Championships were decided in Sonoma.
2012 GoPro FCC presented by Goodyear National Champions
Pro FM – Patrick O'Neill
Formula Mazda – Bill Weaver
FS2.0 – Michael Whelden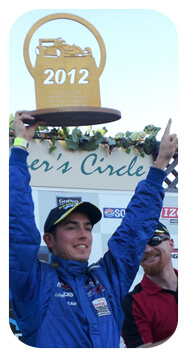 The FCC National Championship class winners are now qualified for a Mazda factory supported ride in the 2013 SCCA Pro Racing Mazda MX-5 Cup valued at over $75,000. Three FCC champions, and a handful of SCCA and NASA Club racing champions will now present themselves to a team of judges who will whittle the already small group into a more focused collection of candidates.
Given that each of the finalists will have already proven themselves on the track by winning a championship, the criteria to move up will be more encompassing. To succeed on the professional level requires a balance of both on-track and off-track skills. After a full day of both driving, and classroom activities, the judges add the objective and subjective scores and discuss the merits of each driver and select a winner to become a Mazda factory supported driver for 2013.
Mazdaspeed also provided $14,000 in cash prize awards for this event. "Our series and drivers really appreciate that Mazda recognizes the FCC presented by Goodyear as being worthy of the MAZDASPEED Motorsports Development Driver ladder program, stated Series Official Ben Hettema. "The Formula Car Challenge was designed to develop future champions and we have already seen some of our alumni move into the highest ranks in professional motorsport."
The MAZDASPEED ladder has been a critical part of the success of up-and-coming racers including Raphael Matos, John Edwards, Conor Daly, Joel Miller, Connor De Phillippi, Dane Cameron, Jason Saini, Todd Lamb, Eric Foss, Michael Cooper, Trent Hindman, Danilo Estrella, Adam Christodoulou, Sage Karam, Spencer Pigot, Felix Serralles, Tristan Vautier, Petri Suvanto, and Scott Anderson. Last season Elliot Skeer was the Mazda Shootout winner. When told that he had won the shootout, a prize valued at $75,000, the richest in all of club racing Skeer noted, "Without this shootout and the MAZDASPEED ladder, the path to the top looks like a giant maze. This just changed my life and is helping me realize that it is possible to make my dream a reality and become a professional driver."