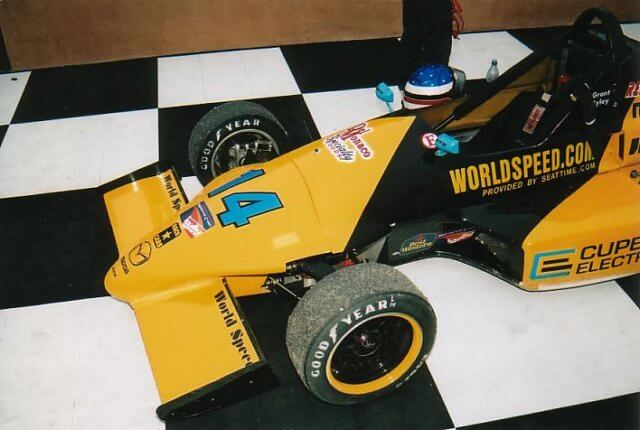 With a breathtaking last lap passing maneuver two corners from the checkered flag, Grant Ryley was able to bring his World Speed Motorsports Star Mazda across the finish line first in round seven of the Star Mazda Series Best Western Championship at Laguna Seca Raceway.  With the victory Grant moves up into second place in the championship, and within striking distance to series points leader Bernardo Martinez as they look towards the season finale in Las Vegas in two weeks time.
"What a race," an excited Grant Ryley said afterwards, "I got lucky there in the closing lap with some lapped traffic and was able to get a run on Jason (LaPoint) coming out of the Corkscrew, we went side by side through turn ten and I had the advantage into the final corner.  I just want to thank everyone at World Speed for their work this weekend, the top of the podium is the payoff."
While Grant was working his way up the field from his fifth place starting position on the grid the rest of the World Speed crew were engaged in fierce battles of their own.  Alex Figge continued to impress over the weekend posting the fastest times in two sessions before leading all World Speed qualifiers with third on the grid, and was running towards the front of the field when a momentary lapse saw his race come to an end.  Chantz Wade was also running up front before a spin on the first restart forced him to battle his way back through the field into 17th place.
Brake system problems during qualifying forced Scott Bradley in the #19 Polycom/Radvision/Peak Travel Mazda to settle for 12th at the start of the race but he battled his way through the field and finished only a few feet out of the top five.  "Qualifying was tough because the car just didn't have the stopping power I had had all weekend and I knew that my work was cut out for me in the race.  My mechanic Mark Murano rebuilt a bad caliper in between the sessions and I was able to attack the cars in front of me during the race.  Another lap and I could have made the top five," Bradley said afterwards.
Rick Waddell also had to battle the mechanical gremlins this weekend as engine problems limited his time on track during practice and qualifying, and a carburator problem during the race had him downshifting at the exits of corners to try to keep the rpm's in the power band.  Despite the struggles Rick moved up seven spots during the race to finish 27th.
With one race left in Las Vegas on October 28th,  World Speed drivers are contending for both the Best Western and Western series championships.